Information:
This is a stolen and adapted code from AST, it will make you change direction while running with your pegasus boots.
Rom:
ALTTP (US), without header; pc w/o header ALTTP (US)
Screenshot: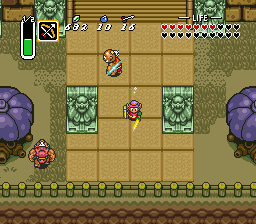 Ips Patch:
http://bszelda.zeldalegends.net/stuff/Con/pegasus_upgrade.zip
Additional info:
You need to keep the run button pressed, becuase stopping by direction change will not work anymore (of course
)
Due to changes in the running code, running up stairs such as those on Death Mountain or outside the Eastern Palace, you need to hold the D-Pad in the direction you're moving.  This is essential to dash the lumberjack's tree.
Code Addresses:
main code at $0x3ff40 (works also with PW)
Last edited by Conn on Sun 8 Feb 2015 - 12:01; edited 3 times in total

Conn







Since

: 2013-06-30



Due to some requests, there is now an optional folder "Optional_disableSword_whileDashing" with a patch inside that removes the sword while dashing.

The direction change gives abuse abilities to consequently dash through enemies and bosses and thus cheating. With this new patch this is impossible
---
Permissions in this forum:
You
cannot
reply to topics in this forum