Desktop threads are always fun!
https://i.imgur.com/6NQW6vK.jpg
I personally use linux with the subtle wm and the theme I made myself, though I have a laptop with windows where I do all my zelda hacking
https://i.imgur.com/qh4B5y7.png
My wallpaper is the same as my avatar, daroach from kirby squeak squad
My desktop on 24" display.
In 1999 i thought tha i would never need a 24" display, because i was complete satisfy with my 14"
Today, sometime i wish i would have two 24"s
thanks
red
Here's mine... what do you expect from a hardcore zelda fan?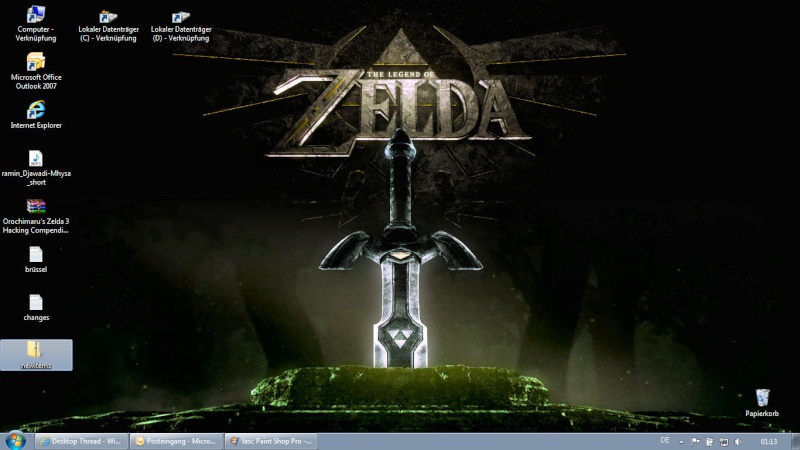 btw: here's the native pic if you like it
http://www.freeimagehosting.net/gf5w1

Conn

                        





Since

: 2013-06-30




Erockbrox

          





Since

: 2013-02-05



*saves picture* amazing wallpaper indeed! do you have an higher resolution available? I'm on 1600x900 sadly so most of the time the nicest walls aren't avaible for my screen size :/
Unfortunately not, this pic is the only one I have:
http://www.freeimagehosting.net/gf5w1
This one is available in the internet, maybe also in your desired resolution. Google "Zelda wallpaper" - unfortunately they are all cut at the upper part. I used my photoshop skills to add the upper part in that one I posted

Conn

                        





Since

: 2013-06-30



Did some updates to my desktop using rainmeter, samurize, and a zune windows theme:D

https://i.imgur.com/kItMzWM.jpg

TylerDurden

Rank: Leever





Since

: 2014-04-06



Oh yeah. No background, no icons, no nothing. Clean. Got Windows 7 but set it up to look like old Windows.

SunGodPortal

                             





Since

: 2015-01-26



Yeah the porn folder was just a fake. hahaha. however, i usually keep the real porn folder hidden amongst video game stuff so no one really sees it.
The leeches are actually because I'm creating a comic book where the evil guy is a mutant leech! And they were reference pics.

Erockbrox

          





Since

: 2013-02-05



---
Permissions in this forum:
You
cannot
reply to topics in this forum