Hi, it's me again,
I'm having trouble inserting ''Triforce of the Gods'' into the title screen. After 4 hours of trials and errors, I discovered that both ''THE LEGEND OF'' and ''A LINK TO THE PAST'' in YY-CHR must stay INTACT while editing the title screen, since the two share similar tiles. I wanted it to have its original Japanese name like this (I don't care about the BG)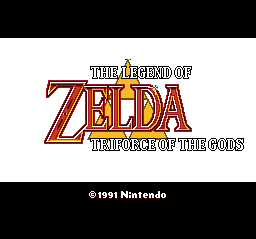 ...There WAS an IPS link on YouTube for something like that, but both the MEGA link AND the YouTube video were DMCA'ed by Nintendo, so it is no longer available to download.
I only want to edit the title screen... and nothing else. The tools I use are Hyrule Magic/SuperZ, ZCompress and YY-CHR. Anyone has an idea on how to do that?

NitroHedgehog

Newcomer




Since

: 2022-08-30



Similar topics
---
Permissions in this forum:
You
cannot
reply to topics in this forum