Information:
The bug-catching net will be turned into an adaptation of the Roc's Feather (Link's Awakening).
Rom:
Multiple versions (read enclosed instructions).
Screenshots:
Feather in use / Catching a fairy with empty bottle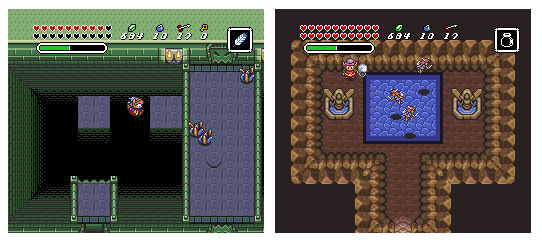 Zip File:
http://bszelda.zeldalegends.net/stuff/Con/feather.zip
Additional info:
You can glide over pits and through enemies without getting hurt. The distance you glide is more or less the bomb jump so you don't need that stunt anymore.
Instead of the net you will catch fairies and bees with the empty bottles (Ocarina of Time).
Inside the zip, there are some bins with which you need to replace the native gfx (net in menu and out of chest with feather (8 and 16 bit), net in action with bottle gfx).
Needs an ALTTP (US) rom without header, shovel in 24 items menu hack preapplied. Works also with native ALTTP if you change 2 ram addresses
Code Addresses:
03/FFA0 (after pegasus boot direction hack)
07/7F20 (after L2 sword pot destroy update)
0d/b500 (after gold potion)
Uses free ram 7E/030F and 7e/008e
Update:
Zip file contains now also a no_bombjump.ips by Euclid that disables getting hurt by bombs. So you now definitively need the feather to get over pits!

Conn







Since

: 2013-06-30



---
Permissions in this forum:
You
cannot
reply to topics in this forum