Page 2 of 5 •
1, 2, 3, 4, 5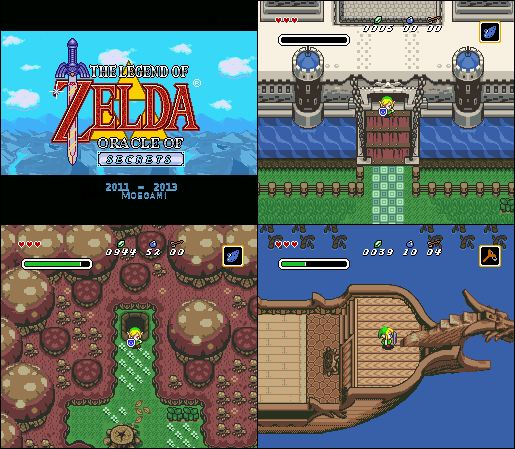 Current Version (0.54):
Code:

http://halext.org/uploads/5f470e8ccc2eaoos54_rolling.bps
The Legend of Zelda: Oracle of Secrets is a spiritual successor to the Oracle of Ages and Oracle of Seasons for the Nintendo GameBoy. It's a complete overhaul of a Link to the Past replacing all the dungeons and overworld as well as a brand new story. The game features several new items and mechanics with contributions from Conn, Euclid, SePH and more.
Screenshots:
Videos:
https://www.youtube.com/watch?v=Pf6rldhDz4s - Goldstar Demo
https://www.youtube.com/watch?v=iYlb3lAWeS4 - Hurricane Spin and Nimbus
https://www.youtube.com/watch?v=Im2p4jXoucc - Fairy Flippers
https://www.youtube.com/watch?v=1DmO8B-r5IA - Fairy Flippers 2
https://www.youtube.com/watch?v=Btl_KwI6V9E - Progress and Intermission
Last edited by Conn on Thu 10 Sep 2020 - 14:48; edited 9 times in total (Reason for editing : Updated for 2020 to look more official)
Conn wrote:one day we must not Forget to apply the updated complete items patch so that your Rom also Features fasrom and some bugfixes, L2 flute and such.
This is very important, I've noticed that I need a few fixes for those type of things, and also my book of secrets X+R trick is broken so that needs to be fixed.
As for a spanish translation, it would be cool but it's nowhere on the top of my list of priorities right now. Gotta finish the rom hack first.
Page 2 of 5 •
1, 2, 3, 4, 5
---
Permissions in this forum:
You
cannot
reply to topics in this forum