Page 4 of 5 •
1, 2, 3, 4, 5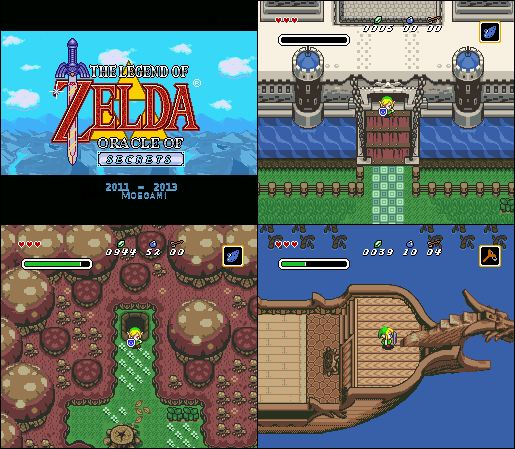 Current Version (0.54):
Code:

http://halext.org/uploads/5f470e8ccc2eaoos54_rolling.bps
The Legend of Zelda: Oracle of Secrets is a spiritual successor to the Oracle of Ages and Oracle of Seasons for the Nintendo GameBoy. It's a complete overhaul of a Link to the Past replacing all the dungeons and overworld as well as a brand new story. The game features several new items and mechanics with contributions from Conn, Euclid, SePH and more.
Screenshots:
Videos:
https://www.youtube.com/watch?v=Pf6rldhDz4s - Goldstar Demo
https://www.youtube.com/watch?v=iYlb3lAWeS4 - Hurricane Spin and Nimbus
https://www.youtube.com/watch?v=Im2p4jXoucc - Fairy Flippers
https://www.youtube.com/watch?v=1DmO8B-r5IA - Fairy Flippers 2
https://www.youtube.com/watch?v=Btl_KwI6V9E - Progress and Intermission
Last edited by Conn on Thu 10 Sep 2020 - 14:48; edited 9 times in total (Reason for editing : Updated for 2020 to look more official)
http://zeniea.com/legacy/files/oos/Oracle_release.zip Here's a new link to the old demo, since I have received a few PMs about it since i lost my halext.org domain
Page 4 of 5 •
1, 2, 3, 4, 5
---
Permissions in this forum:
You
cannot
reply to topics in this forum